Late in 1992, Barb and Steve North founded the Standup Repertory Company at the L.A. Connection in Burbank in Southern California.

The Standup Repertory Company was the first group of standup comedians to be part of a workshop and cast. The unique media of "cast standup" gained popularity with audiences and received rave reviews.

The show mixes individual standup performances with group standup, giant-screen videos, and some audience participation.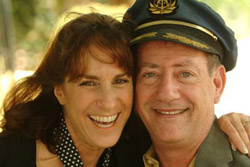 Barb and Steve North like to call it "Beyond Standup" and believe the recent decline in live comedy popularity has to do with the sameness of performers and style. As Steve puts it, "...too many comics doing the same kind of acts, too many comics, too few comedians. The format is too restrictive and repetitive. The artform needs to loosen up and advance."

The idea behind the Standup Repertory Company is to provide a publicly successful show to serve as a home-base for professional performing and showcasing, where cast members could be seen by the public, agents, casting directors, etc., in prime time. (No blenders going off behind the bar, no 2:00am time spots - just people there to watch comedy.)

Steve says, "We want to provide a complete, ongoing and long-term comedy career environment." He says that that the workshops not only teach standup, but some of the other skills comedians need: cold-reading for acting, training for personal appearances and talk show appearances, and other ways of using the comedic character outside of the standup stage.

The Norths believe that having a steady, flattering place to perform, grow, and be showcased is the key to a career in comedy. According to Steve, "there's no law that says that a struggling comedian has to be on their own and on food-stamps. In fact, that's not very funny, is it?" Barb thinks the "family feeling" of being in the cast keeps many budding careers nourished until opportunity comes around.

Members of the group pay dues for the workshops, similar to a theatre company, but make money on nights they perform.
Click here to read all about it.
Reviews of "Thursday Nite Live"
"Here and There" with Ruth E. Maier
Thursday Night Live at LA Connection

Sav-A-Buck - Print out this "$1.00 Off" General Admission Coupon and present it at the door.
The show is offered every Thursday night at 9:00pm at the
L.A. Connection Comedy Theatre
3435 W. Magnolia Blvd
Burbank. CA
(2 Blocks west of Hollywood Way)